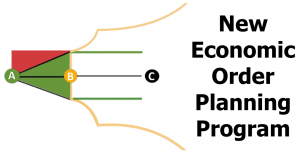 In September of 2007 a credit freeze initiated the savings losses of the Great Recession and triggered productive Americans' losses of personal and retirement plan savings and home equity. 501(c)(3) non-profit organizations experienced losses of endowment savings. American savers' personal, retirement plan, and home equity losses exceeded 14 trillion dollars.
These losses also initiated a new economic order by demonstrating that risk could not be diversified away, and that irresponsible credit destroyed personal savings.
Central bank intervention then drove interest rates to near zero for a decade, and government spending created a $20 trillion deficit. Based on these realities, a strategic plan, the Progress Project, was developed in 2009 from findings of the Economics of Life Research Project to mitigate the major problems of the post-Great Recession New Economic Order: 1. Americans' retirement savings deficits caused by earnings losses, savings losses, and extended life expectancies, 2. The endowment deficits of 501(c)(3) non-profit organizations are caused by losses of endowment savings and donor confidence.
In 2009 Progress Project business structures were created to contract with consultants, life insurance companies, technology companies, marketing companies, and other resources required to implement the Progress Project strategic plan through the New Economic Order Planning Program.
The New Economic Order Planning Program began development through pilot projects that began in 2010 to test planning modules to build retirement savings for highly productive doctors, business executives, business owners and other productive individuals. An endowment planning module, the Permanent Endowment Program was integrated into the New Economic Order Planning Program to establish 8375 Permanent Endowment Programs to mobilize Affluent Individuals' surplus savings to create perpetually multiplying endowment funding for 501(c)(3) non-profit organizations.
Over the next seven years, planning modules for Savers, Millennials, GenXer's, Highly Productive Individuals, and Affluent Individuals were developed and tested to complete the New Economic Order Planning Program's resources and Progress Project implementation capabilities.
Included in the planning modules that were developed and tested was a unique fintech component, an integrated, personalized capital accumulation plan and pension proposal for Highly Productive Individuals. Training programs for consultants were developed and began testing in 2015, when an initial group of consultants were recruited and trained to implement the newly created New Economic Order Planning Program planning modules.
The 2017 Tax Cuts and Jobs Act created an opportunity to build a unique, new, earnings management planning module, the 199A Plan, which reduces tax losses for productive owners of pass-through businesses who are age 55 and under. The 199A Plan provides highly efficient catastrophic loss protection and guaranteed life income. The Leveraged Tax-Free Life Income Program was developed to enable productive individuals to establish retirement plans that were outside the control of employers that generated millions of dollars of tax-free retirement distributions.
Beginning in 2020 the New Economic Planning Program is initiating a 5-year project to recruit and train 8500 college graduates to six-figure income financial services careers as New Economic Order Planning Program Financial/Endowment Consultants who provide personal support to productive individuals participating in the New Economic Order Planning Program.
The Progress Project/New Economic Order Planning Program will also recruit and train 85 experienced financial services industry professionals to seven-figure annual income careers building and managing a New Economic Order Planning Program Marketing Unit of 100 New Economic Order Planning Program Financial/Endowment Consultants.